This initiative is powered by exceptional York students, graduates, faculty, and associates:
Project Leadership
Alice Hovorka
Dean of the Faculty of Environmental and Urban Change, FODAFO Director, Professor, PhD
As Dean, Dr Hovorka supports the initiative's growth and development within York and beyond through global partnerships and collaborations. The initiative draws upon many strengths of York's Faculty of Environmental Studies including its interests in sustainability informatics, as the application of computational methodologies to important problems regarding the human use of the planet's regenerative capacity. Dean Hovorka represents York University as a Director of the Footprint Data Foundation and joins with its champions to enhance the global impact of ecological footprint and biocapacity accounting.
Eric Miller
Director of the Ecological Footprint Initiative, FODAFO Secretary-Treasurer, Course Director, MES, BA, BSc
As Director, Eric manages multiple projects and partnerships of the initiative including the production of the National Ecological Footprint and Biocapacity Accounts. He teaches the footprint-related courses, supports students and project staff, and supports the Footprint Data Foundation as its Secretary-Treasurer. His prior work as a consulting economist has informed governments, industry, think-tanks, and NGOs. His earlier career in public service had him leading the team of economists in the Ontario Ministry of Natural Resources, after he had worked for the Ontario Ministry of Environment and for Environment Canada.
Peter Victor
Chair of the FODAFO Science Advisory Committee, Professor Emeritus, PhD
As the founding Chair of the Science Advisory Committee, Dr Victor provides the Footprint Data Foundation with the committee's expert advice on the science underlying the definition and measurement of the Ecological Footprint and Biocapacity and their various components. Dr Victor is an economist who has worked on environmental issues for 50 years as an academic, consultant and public servant. He was Dean of the Faculty of Environmental Studies, Assistant Deputy Minister of the Environmental Sciences and Standards Division in the Ontario Ministry of the Environment, and principal of VHB Consulting and Victor and Burrell Research.
Ravi de Costa
Chair of the President's Sustainability Council at York University, Professor, PhD
As Chair of the President's Sustainability Council at York University, Dr de Costa supports the initiative's recognition within York and abroad, and its application to enhancing the sustainability of York University and its broader communities. In his prior role as Interim Dean, Dr de Costa supported the creation of the Ecological Footprint Initiative, the negotiation of collaborations with external partners including Global Footprint Network, and the incorporation of the Footprint Data Foundation. His research and teaching interests are in comparative approaches to Indigenous and environmental politics.
Staff researchers and analysts
Katie Kish
Research Associate, Ecological Footprint Initiative, PhD, MES, BES
As Research Associate for the Ecological Footprint Initiative, Katie supports knowledge synthesis and mobilization of the team's research.
She has a Ph.D. in Social and Ecological Sustainability from the University of Waterloo and a background in complex systems thinking and ecological economics which she applies to research on production, labour, and open knowledge commons. She is also a lecturer of ecological economics at the Haida Gwaii Institute and Research Fellow with Economics for the Anthropocene.
Elizabeth Holloway
Senior Analyst, Ecological Footprint Initiative, MES, BES
Elizabeth's research interests include forestry for carbon sequestration and corporate social responsibility in Canada.
Elizabeth has a masters and undergraduate degree in environmental studies and has also studied visual art. She spent ten years working in reforestation in western Canada and this informs her interest in projects that keep people active and engaged in the outdoors.
Sophie Angoh
Data Analyst, MES III student in Business and Environment, BA
Research interests include waste management and corporate social responsibility.
Sophie has an undergraduate degree in Psychology with a certificate in Law and Social Thought. She aspires to be in the ecotourism industry to educate on zero waste practices and minimize the footprint of tourism. She also aspires to live in a van, whichever comes first.
Flora Gómez
Data Analyst, MES II student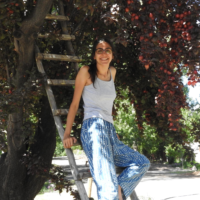 Flora's research interests include human-nature complex relationships, food, and environmental arts and justice.
She is a Registered Dietitian back home, with an undergraduate in nutrition science, a diploma in holistic nutrition and experience in performance. She aspires to combine critical and technical skills with embodied learning to address the issues around nature protection and human well-being.
Syed Ahmed Abdul Aziz
Data Analyst, MES II student, MPA
Ahmed's research interest is in the application of behavioral science and economics to urban planning and policy. He is particularly interested in using behavioral ideas to design and plan cities in such a way as to incentivize sustainable and environmentally friendly behavior, while simultaneously improving quality of life. Ahmed was a Fulbright scholar at Cornell University where he completed a Master of Public Administration, successfully publishing a thesis centered on behavioral science and policy. Currently he is pursuing a Master in Environmental Studies (Planning) at York University, and aspires to be a practicing urban planner after graduation.
Summer Solmes
Communications Coordinator, Chair of EUCSA, 3rd Year BES student
As an undergraduate student, Summer is pursuing her interests in wildlife and habitat conservation through research on the impact of intensive urbanization and its concomitant ecological footprint. She is invested in determining the capacity to conserve in captivity with the perception of zoos as cultural landscapes of the urban. Her work with the Ecological Footprint Initiative enhances her knowledge of footprint accounting and inspires action for environmental sustainability as she becomes a future changemaker.